All-Ireland Minor Football Champions
Sunday 19
th
September, 2010
Congratulations to our parishioners John McCullagh (Sheskinshule) and Cahir McCullagh (Monanameal), team members on the Tyrone Minor panel who won the All-Ireland Minor Football Championship at Croke Park on Sunday 19th September, 2010. John was also awarded the title of Man of the Match.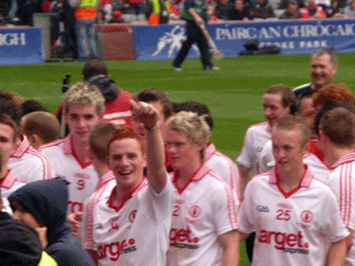 Tyrone Hold Out in Front of Fierce Cork Finale
The Irish Times (Monday 20
th
September, 2010)
ALL-IRELAND MINOR FOOTBALL FINAL Tyrone 1-13 Cork 1-12:
A weird game of football. Tyrone had Cork well beaten on three occasions yet almost lost as the Rebel minors did their now established trick of launching a late blitz, scoring an astonishing 1-4 in a three-minute period, to almost steal the Tom Markham cup away from the overwhelming favourites. Cork are a brave, admirable group but it would have been a travesty if they had won. "They kept going until the end," said Cork manager Brian Cuthbert. "We knew they'd do that. What happened today was that time ran out, simple as that. We had the momentum and I thought with that we were going to win because Tyrone seemed to panic, especially with the high ball. Maybe when we thought the game was gone away from us we had nothing to lose and fellas drove on, we got the goal and that got us back in it. But definitely, with two or three minutes to go, we thought we were going to win it." Cuthbert is right, when Cork finally threw caution to the wind and dropped high balls into big Stephen O'Mahony, with Dan McEoin catching fire beside him, anything seemed possible but why wait to employ such tactics? "You have to have possession first before you can put the ball in," Cuthbert responded. The Ulster champions seemingly had victory secured after 19 minutes when midfielder Harry Óg Conlon appeared at full forward to finish past David Hanrahan at the second time of asking. It was a wonderful goal constructed by contributions from centre back Michael Donaghy, Niall Sludden and Ryan Devlin before Ronan O'Neill's direct pass was almost deflected into the net by Conlon. Hanrahan saved but Conlon was quickest to the rebound to make it 1-5 to 0-0. Cork seemed well out of their depth, cheaply surrendering what little possession they managed to gather. The punishment was swift ball into Tyrone's ruthless finisher John McCullagh. Wing backs Sludden and Eunan Deeney were also causing havoc on the overlap and both pointed. Brian Hurley ensured Cork maintained a slight heartbeat with three excellent frees and when they did send fast, accurate passes inside, McEoin was always a willing recipient. Only problem was the large number of Tyrone players that funnelled back. Kevin Hallissey had a great goal chance but the mesh of bodies forced him to settle for a point that left just a goal between them as the interval approached.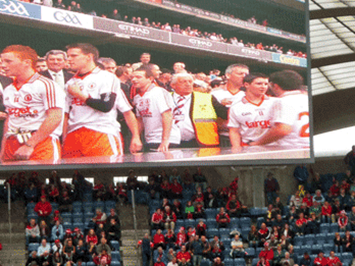 "At half-time some of our players were congratulating themselves," said Tyrone manager Munroe. "They felt they had the game won. We had some stern words. We said we had to win the second half on the scoreboard. That was the only guarantee I could give them, if they won that they would be All-Ireland champions. "We had to dig deep. We had to take the Cork crowd out of it when they came in in their droves towards the end of the game." And so they shifted through the gears again while Cork reverted to over-carrying and refusing to feed a player in space. From the 42
nd
to 47
th
minute Tyrone scored four unstoppable points off Devlin, McCullagh and two by midfielder Conan Grugan to build an eight-point lead. Again. Cuthbert flung all his remaining chips into the middle of the table. O'Mahony's towering frame arrived on to the square's edge. McEoin kicked a point. Seconds later O'Mahony broke a high ball to Hurley, who laid off to Hallissey who calmly rolled the ball into the far corner. Before Tyrone could catch their breath John O'Rourke pointed. The swelling crowd were suddenly a factor. McEoin and O'Rourke grabbed two more scores to make it a one-point game. As their worst fears started to unfold, Tyrone silkily orchestrated a goal opportunity. Hanrahan denied Conlon but Ronan O'Neill gathered the break to put it through the posts. Significantly, as injury-time approached, the Cork kick out went dead. Also, Tyrone players were being struck down by what seemed terminal injuries. McEoin, again, brought it back to the minimum but referee Michael Duffy was presented with an escape route when Cork wing back Jamie Wall was adjudged to have picked off the ground.
TYRONE:
C Spiers; S McGarrity (capt), C Clarke, H P McGeary;
N Sludden (0-1), M Donaghy (0-1), E Deeney (0-1); H Óg Conlon (1-0), C Grugan (0-2); R Donnelly, T Canavan (0-1, free), R Devlin (0-1)
; S Tierney,
J McCullagh (0-4), R O'Neill (0-2, one free)
Subs :
P McNulty for Donaghy (39 mins), L Girvan for Devlin (47 mins), D Donnelly for Tierney (53 mins)
CORK :
D Hanrahan; K Fulignati, M O'Shea, A Cronin (capt); C O'Sullivan, T Clancy, J Wall; J Burns, D Cahalane;
J O'Rourke (0-3), M Sugrue, D McEoin (0-5); K Hallissey (1-1), T Hegarty, B Hurley (0-3, all frees) Subs :
D Fitzgerald for Hegarty (31 mins), L O'Connolly for Sugrue (42 mins), D O'Donovan for Fulignati (43 mins), S O'Mahony for O'Sullivan (48 mins), K Sheehan for O'Rourke (60 mins)
Referee :
M Duffy (Sligo)
[SOURCE]