Resignation of Bishop Séamus Hegarty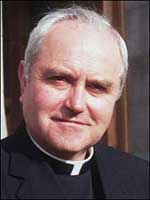 Hegarty has written to inform us that due to his medical condition he is no longer capable of fulfilling the role of Diocesan Bishop and has submitted his letter of resignation to the Holy Father. Bishop Hegarty was installed as Bishop of Derry on Sunday 6
th
November, 1994. Prior to coming to Derry he ministered in his native diocese of Raphoe as priest for over fifteen years and as bishop for over twelve years. He has asked for the support of our prayers in his letter and on behalf of the parish faith-community Fr. Hasson has written to him with a supportive response.
Bishop of Derry Offers Resignation
Belfast Telegraph (Monday 7
th
November, 2011)
Bishop of Derry Seamus Hegarty has written to Pope Benedict tendering his resignation on health grounds, the Catholic Church has confirmed. The senior cleric said he was no longer fit to fulfil his diocesan duties after being diagnosed with an irreversible illness. "Very recently, I received a diagnosis of a condition which is, unfortunately, irreversible and progressive. I am now receiving treatment for this condition," he said. Bishop Hegarty, 71, was in charge of the Raphoe Diocese in Donegal from March 1982 before moving to Derry to take up his post in November 1994. "I had hoped to continue until the age of 75 as diocesan bishop, but my medical condition is such that I have an obligation to submit my resignation," he said. "Due to my condition, I will have to scale back on my duties while the Holy Father considers my letter of resignation. It is my hope that my resignation will be accepted. It is my intention to maintain a pastoral ministry, to the extent that I am able, into the future. I ask for prayers at this time." Bishop Hegarty began undergoing medical tests earlier this year but has only now confirmed he has been diagnosed. He said he was following the Code of Canon Law in which a bishop is "earnestly requested to offer his resignation" when, because of illness, he becomes unsuited for the fulfilment of his office. The Pope will make the final decision on whether Bishop Hegarty should continue to head the diocese. Bishop Hegarty was born in 1940 and ordained a priest on June 19 1966.
[SOURCE]
Statement of Bishop Séamus Hegarty on acceptance of his resignation as Bishop of Derry by the Holy Father, Pope Benedict XVI
Official Website of Derry Diocese (Wednesday 23
rd
November, 2011)
Recently, I submitted my letter of resignation to the Holy Father, Pope Benedict XVI, in accordance with canon 401 §2 of the Code of Canon Law, due to a health condition which has been assessed to render me unable to fulfil the obligations of my office as Diocesan Bishop. The Holy Father has very kindly considered my letter, along with the medical reports provided by experts, and today graciously accepted my resignation. My resignation is effective from 11.00 GMT today, Wednesday 23 November 2011. I would ask for prayers that the Holy Spirit may guide the selection of the new Bishop of Derry. At the personal level, I would entrust my health to the prayers of the people of the diocese. The Diocese of Derry is now a Vacant See, one which has no Diocesan Bishop. For the interim governance of the diocese, the Holy Father, Pope Benedict XVI has asked the Diocesan College of Consultors, a group of eight priests who govern the diocese collegially for up to eight days, to meet and elect a Diocesan Administrator, to whom the administration of the diocese is entrusted during the Vacant See.
+ Séamus Hegarty
Statement, following publication of National Board for Safeguarding Children's review of child safeguarding in the Dioceses of Derry and Raphoe
Wednesday 30
th
November, 2011
About this time last year, as Bishop of Derry, I asked the National Board for Safeguarding Children to include the Diocese of Derry in the first group of dioceses being reviewed. I am grateful that they agreed. The Derry Report indicates that the police and Social Services have full confidence in the current management of allegations in the Diocese of Derry. However, both the Derry and the Raphoe Reports indicate deficits in the management of allegations historically, including during my time as bishop. These deficits cannot be undone and, at the personal level, I am sorry that this is the case. I was a diocesan bishop for thirty years, first in Raphoe and later in Derry. I now look back and know that my practice in the past was sometimes poor and I am deeply sorry that anyone was hurt through my management of allegations historically. I know that I made big efforts to improve as time went on and this is reflected in the Derry Report. Today I think of the men and women whom I met, over my years as diocesan bishop, who were abused as children by priests. I think of their courage and their pain and pray that healing may be theirs. It is for their sake, as well as for the good of children throughout the Church, that we must ensure that the past is never repeated.
+ Séamus Hegarty
Letter from Bishop Hegarty to Parishioners
My memories of my pastoral visits to your parish have always been positive and refreshing. Please convey to the parishioners my deep gratitude and appreciation for their witness and fidelity to both the Church and to the Diocese as I have observed at Confirmation ceremonies. Although retired as Bishop of Derry please keep me in your prayers.
With my blessing and good wishes
+ Séamus Hegarty