Resignation of Auxiliary Bishop Francis Lagan
PARISHIONERS CONFIRMED BY BISHOP LAGAN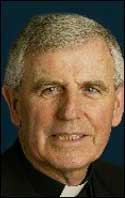 On Thursday 6th May, 2010 Pope Benedict XVI accepted the resignation of Most Reverend Francis Lagan, Titular Bishop of Sidnacestre and Auxiliary Bishop to the Bishop of Derry as he has reached the age limit when bishops retire.
Bishop Francis was born 31st October, 1934 at Lisnamuck, Maghera and was ordained a priest on 19th June, 1960 at St. Patrick's College, Maynooth. His ministry in the diocese began with teaching appointments at Saint Columb's College, Derry (1961-1963), Carndonagh College (1963-1973), and Carndonagh Community School (1973-1977). He served as a curate in Strabane (1977-1982) and as Administrator at St. Mary's Parish, Creggan in Derry City (1982-1988) when he became the Auxiliary Bishop in our diocese on 20th March, 1988.
He has become well known to us during his episcopal ministry, visiting us ten times to Confirm 213 of our young parishioners in their faith. We thank him for his ministry to our local church in this parish and to our diocese and wish him every blessing for continued good health in retirement, a warm welcome is open anytime he wishes to visit with us again.
Parishioners wishing to send personal greetings may write to him at the address in the diocesan directory:
9 Glen Road, Strabane, Co. Tyrone, BT82 8BX