The Return of Colmcille
Friday 7th June at 7.30pm in Foyle Embankment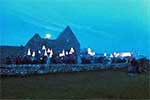 The Return of Colmcille, a celebration of the saint and the city kicked off over the weekend of the 24
th
May on the island of Iona, off the west coast of Scotland. Over the course of a week, the primary school children worked with artists to create a gift to be sent to Derry~Londonderry as part of this UK City of Culture event. Too precious to be merely posted, a crew of 13 were tasked with rowing the gift back to Northern Ireland. Late on Friday the crew, the local residents, school children and some colourful characters enjoyed a theatrical procession of lanterns down to the shore. There was also a shadow play telling the history of St. Colmcille (Columba's) journey to Iona before the a red monk blessed the crew and the children's mysterious gift. In return, the crew, volunteers of the Causeway Coast Maritime Heritage Group, presented the children with a gift of a miniature of their 38 foot canvas Curragh Colmcille. With a full moon and calm waters they set sail just before midnight, mirroring the journey made by Colmcille and his followers almost fourteen hundred years ago.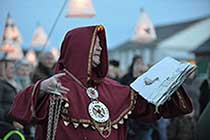 Safely stowed on board is a gift from the children of Iona which will play a huge role in the spectacular series of events planned for the city on Friday 7
th
and Saturday 8
th
June: The Return of Colmcille. Rowing throughout the night past the island of Collansay they reached Islay Saturday morning at 11:30am. Setting up camp and cooking up a feast of curry on the large pot they bedded down early. The crew were sea bound by 6am and reached Rathlin around lunch time Sunday. Keeping each other motivated, the crew tell jokes, recount stories and sing. They will take a well-deserved rest before setting off on the second leg of their journey to Derry~Londonderry. The rowers and the Curragh Colmcille will be welcomed to the city by the Mayor on the Foyle Embankment at 7:30pm. We hope you will join us in welcoming them. Lasting one hour, expect airborne antics as the mysterious Iona crate is lifted into the midst of an extraordinary entourage and on towards Guildhall Square.