About Fr. Edward Gallagher
Inducted as Parish Priest on Thursday 17
th
September, 2015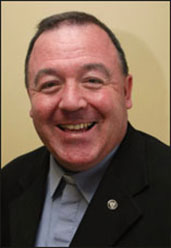 Welcome (fáilte go Caisléan Glas) – On Saturday 15th August due to clerical changes within the Derry Diocese Fr. Edward Gallagher was appointed by Bishop McKeown to the parish of Greencastle as our new parish priest.
Eldest of the 6 children of Evelina and the late William Gallagher, Fr. Edward Gallagher was born in Brooklyn, New York before moving to Derry at the age of 10. He has one brother and four sisters. After attending St. Columb's College, Derry he then proceeded to begin studies for the priesthood at St. Patrick's College, Maynooth being ordained to the priesthood on Sunday 12
th
June, 1994 in St. Brigid's Church, Carnhill, Derry. Since then he has served as curate in Holy Family Parish Derry, Cappagh and Limavady and spent 5 years on the Derry Diocesan Mission to Belize, Central America. Latterly he has served as Administrator at St. Columba's Church, Long Tower in Derry. Fr. Gallagher was inducted as the 13
th
parish priest of Greencastle in St. Patrick's Church by Bishop McKeown on Thursday 17
th
September at 7.30pm.