Death of Bishop Séamus Hegarty
Friday 26th January, 1940 to Friday 20th September, 2019
This weekend, following his death on Friday afternoon we in the Parish of Greencastle and Fr. Edward Gallagher PP personally give thanks to God for the life and ministry of Bishop Séamus Hegarty who was our bishop in this diocese of Derry from November, 1994 to November, 2011 having previously been Bishop of Raphoe from 1982.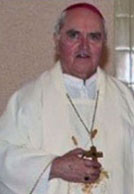 The various photos include his Ad Limina Visit to Rome with Pope Benedict XVI and his visit to our Diocesan Outreach in Belize in Central America where he is pictured with the late Bishop Osmond Peter Martin of Belize, opening the new San Marcos Primary School built with donations from the people of the Diocese, at home in the classroom and with Fr. David O'Kane and Fr. Edward Gallagher in Sacred Heart Church San Ignacio.
The late Bishop Séamus is also pictured with our Greencastle Parish sacristans Alice Keenan and Ann McDermott receiving the missals with the revised translation of the mass in November, 2011 at what was Bishop Seamus' last ceremony as Bishop of the diocese in St. Eugene's Cathedra,l Derry. His last visit to the parish of Greencastle was for the celebration of Confirmation in 2010 in Our Lady of the Wayside Church Broughderg.
Bishop Hegarty's remains arrived in St. Eugene's Cathedral at 3.30pm, Saturday 21st September, 2019. He will repose in St. Eugene's until his Requiem Mass on Monday 23rd September at 12 noon with burial immediately afterwards in the grounds of St. Eugene's Cathedral.
Bishop Séamus is now at peace with the Good Shepherd whom he served as priest and Bishop since 1966. May the Lord pour His mercy on him for the times he fell short in his service and reward him for his faithfulness.
Suaimhneas síoraí tabhair dó, a Thiarna, agus go lonraí solas suthain air. Go bhfaighe a anam agus anamnacha na bhfíreán trócaire ó Dhia agus cónaí faoi shuaimhneas.
Amen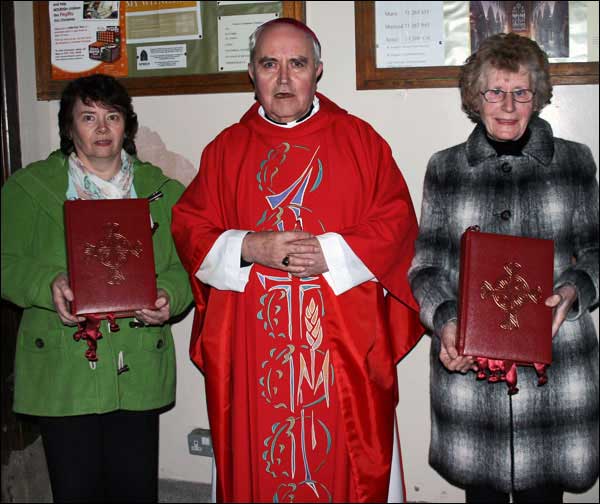 Designed, created and maintained by Comigo Web Design